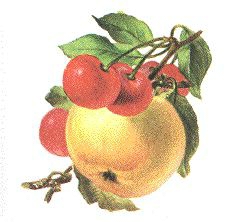 The Lady Felicia presents
The Language of Flowers
When one was a girl, one's peers indulged in a charming custom known as 'The Language of Flowers'. Every flower has a meaning, and we young ladies and gentlemen were encouraged to learn them, so that we might express our feelings beautifully. A formal flower arrangement could be replete with emotions at which our lips might only hint; a plucked bouquet might hint at a swain's interests in us.
Sadly, this lovely custom has been allowed to die in recent years. Impertinent as it may be for one to propose such a scheme, might one suggest that the readers of one's husband (who, one has heard him say countless times, are so many that if his waist size were as many inches as the number of his readers . . . oh, but they are. So sorry!) revive this Victorian pastime? One has provided a guide to many of the popular blooms, so that one's readers might acquaint themselves with the wide variety of quaint ways they might give their loved one a subtle, fragrant message.
Serenely, one remains
Lady Felicia Grandiose
| | | | |
| --- | --- | --- | --- |
| Flower | Meaning | Flower | Meaning |
| White roses | My intentions are sincere. | Red roses | I love you. |
| A single red rose | I find you artless and captivating. | Rosemary | I will remember you always. |
| Daffodils | I hold you in esteem. | Red carnations | Alas for my poor heart! |
| Forget-me-not | My love for you is true. | Myrtle | We must marry. |
| A bouquet of plucked daisies | I still think you're awfully cute, dear. | A bouquet of hastily plucked, dew-wet daisies | Your nose is dripping. |
| Pink carnations | These ought to be good enough for you now. What do you want, roses? | Baby's breath | Why haven't you produced me an heir yet? |
| Yellow Poppies | I'll be sleeping in the other bedroom tonight, thanks. | Amaryllis | Are you still living here? |
| A lovely bouquet of roses, tulips, larkspur, and snapdragons, presented at dinner | No, I'm not having an affair. What in the world made you think I am, woman? | A box of red roses, on the fat side | She's run off with her footman. |
| Raspberry | Penitence | Lavender | Why are you still sleeping in the other bedchamber? I gave you your title, woman! |
| Ice Plant | I can't stand those chilly looks you give me over the breakfast kippers. | Red Tulips | Don't believe what that chambermaid tells you. It's her word against mine. |
| Convolvus | My lawyer says you'd take me for everything. | A box of rose stems | Good god, how many long, arid years has it been? |
---
Sam writes: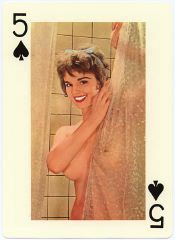 Sir Charles:
You, Sir, are about to be astounded and amazed. Allow me to introduce myself. The name is Sam, Sam Schmoozinski formerly of the Susquahana Hat Company and now recently removed to Coney Island . . . but that is a different story.
Sir Charles, do you mind if I call you by your first name? Charlie, I'm prepared to offer you a once in a life time chance. Thanks to wonders of modern science and photo reproductive techniques I can offer you not one! Not Two! but FIFTY TWO playing cards embossed with an image of your choice!
Imagine, no more dull bridge parties! No more boring poker nights with the fellows <nudge nudge>. (I play Go Fish myself.)
Yes! Fifty Two individual heavy stock glossy cards with what ever YOU want on them! You've got your Bicycle cards. You've got your Bee cards, Charlie, but do you have the playing cards YOU want? I thought not, my good man. Well I am prepared to offer you your own deck of GENUINE playing cards with what ever your heart desires in the place of diamonds, hearts, clubs or spades on the face.
Allow me, Charlie, to show you a sample. I made this one JUST for you to show you how much I like you. I don't do that for just anybody but you have an honest face. I took your young ward's profile from a photograph in the society pages and combined that with the body of a Sunday school teacher I happen to know and VAVAVOOM!
Take a look at that Charlie! You like? Now because I'm an honest man and have taken a real shine to you I'm going to let you have these cards AT COST. It kills me to do so what with Mother being ill and all, but as I said, I like you Charlie. You're like a brother to me. For merely TEN dollars for the first and EIGHT FIFTY for each additional pack, you'll be the king of the pinochle table!
So whaddaya say?
Sam Schmoozinski
Sir Charles replies:
Sirrah:
Let one itemize.
1) To you, one's first name is not 'Charlie,' but 'Sir.'
2) Never before has one seen such a disgusting, foul application of human creativity. Were one to place a thousand flatulent chimpanzees into a cage decorated with unclothed pictures of the 'Spice Girls' and lace their bananas with 'Spanish Fly,' the resulting visual horror would not begin to approach what one has experienced with your disgraceful and graceless letter.
3) Ten packs of cards . . . that would be $86.50 in American currency, what? Which would translate into . . . three hundred and ninety British pounds?
Utterly disgusted still, one remains,
Sir Charles Grandiose
---
Sir Quentin writes:
Dear Sir Charles,
All true gentlemen must master the subtle of art of managing inferiors, especially the more troubling ones, with a certain amount of elan, of circumspection. Of patience. My activities have, until now, insulated me from these challenges of etiquette, however, recent events have brought such concerns to the forefront of my mind. I covet your wisdom in resolving what is proving to be a rather intransigent difficulty.
It began on a recent diplomatic assignment to a foreign land. Upon arrival I found myself unwelcome and in no small amount of physical danger (not an unusual situation, actually), and was obliged to escape from my tete-a-tete and establish contact with the native population for my own safety.
My contact, whom I met quite by accident, is the source of my difficulties. The poor bloke has got it into his head that he is my "servant for life" or somesuch. Though at first he proved instrumental in escorting myself and my compatriots to a more civilized sector, he has, since then, become a constant, nay, an -inescapable- source of dim wit, inconvenient intrusion, and banal humour. It is not becoming for one to display emotion overmuch, and yet for the sake of precision I feel obligated to convey that I detest this ingrate with the flaming passion of a thousand dying suns.
But I digress. My original mission has quickly evolved into a military action that exploits an alliance with the aforementioned native population. I have just learned that this sirrah who has been following me, bothering me, and tormenting me without relapse is to be a leader of his people's forces in the upcoming battle. I can only hope that he meets his death at the hands of the enemy, but if he does not, I will require a dignified and efficient way to inform him that his services are no longer needed or even welcome by me. Could you, Sir Charles, recommend a strategy for broaching the subject that would befit a man of my station? I would be eternally in your debt.
I shall send this missive off on the eve of the battle. I shall not be fighting with the main force, but rather taking an opportunity to locate and trounce an ancient rival. I expect all the best from the encounter.
Respectfully yours,
Sir Quentin Gerard Jonesbridge
Sir Charles replies:
Sir Quentin,
One disagrees strongly with you about circumspection. No gentleman, nor his son, requires circumspection. It is a vile practice. Just because our Jewish Biblical predecessors circumspected their male children is no reason for the Modern Peer so to do.
As for your unfortunate leech-like friend: One bayonet wound looks very much like another, whether it comes from the thrust of the enemy or not. Catch one's drift? Word to the wise, however. Be certain he pays up any debts he might owe you before placing him on the front line of attack.
Fondly remembering one's week in the platoon before one was released for flat feet, one remains,
Sir Charles Grandiose
---
Rimsky writes: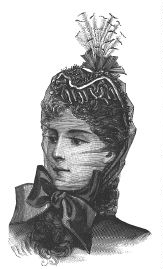 Dear Sir Charles,
I would like to inquire as to whether the ravishingly beautiful Ms. Windsor-Smythe might like to visit us, in a small town in Georgia south of Atlanta, as a way of furthering Anglo-American relations.
We would love to further her education by showing her all of the finest the American South has to offer, from the Coca-Cola plant, to Stone Mountain, the Kudzu Cafe, fried green tomatoes at Juliet's, and, of course, a Braves game.
This intensive exposure to the very finest of American high society would no doubt be most useful to her, upon her accession to the throne.
Sincerely,
Rimsky
Sir Charles replies:
My lad,
Though it may be hard to fathom that anyone could resist the myriad leafy charms of the Kudzu Cafe, or might pass up the opportunity to ingest unripe fruit that has been submerged in breadcrumbs and hot lard, one fears that young Penelope Windsor-Smythe (and it is indeed true that she is eighty-fifth in line for the throne, but we must blushingly confess that the chances of her succession are slim, unless a deadly virus were to be sent through the post to other members of the Royal family, and BioTox Industries, Ltd., is not at all cooperating) must decline your kind offer.
She has already committed herself to a tour of 'New Orleans' for the month of July. With her eye for romantic decorating, she is anxious to see the 'red light' districts.
Regretfully, one remains,
Sir Charles Grandiose