Sir Charles Grandiose presents an excerpt from
The Sir Charles Grandiose Handbook of Netiquette and Other Good Behaviour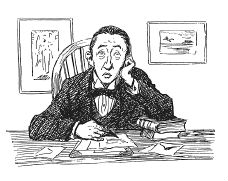 What is the triumph of human civilization? For what, above all other things, will the human race be remembered throughout all eternity? It shines above all else; it acts as a beacon on the Shores of Civilization for boats adrift in the Sea of Chaos. It amuses; it distracts; it elicits tears. It is mankind's greatest feat.
No, readers. One is not referring to Baywatch. One speaks of communication--mind speaking to mind, voice speaking to voice. And although in these 'modern' days the minds may physically find themselves thousands of miles apart, the communication between them still flourishes as if they were in the same room.
Thus our topic, this week, is that of email, apparently one of the 'modern' ways of communicating. Now, one admits to a small folly. When one was asked to write upon the topic, one thought 'email' was sort of a fifth-rate correspondence. You know. What comes after one's 'a-mail' from friends and peers and one's 'b-mail' from the folk one would never entertain for dinner. The sort of solicitation one receives on a frequent basis proclaiming that one may have already won some pittance of money.
One's secretary attempted to explain the phenomenon to one, but listening to the lad attempt a narrative is like listening to the village idiot trying to explain the plot of The Duchess of Pembroke's Arcadia. Thus one ordered one's minions to hire the greatest expert on 'email' to explicate the process. This man--Billy Bates, or something like that, an American--allegedly was president of Microsmoosh or some such little company, but one finds it hard to believe. He drooled more than one's secretary, and was nearly as incomprehensible. One had the hounds chase him off the estate.
Thanks to young Penelope Windsor-Smythe, however, who professed a great acquaintance with the phenomenon, one learned a great deal about 'email.' One pecks in one's letter on a 'keyboard,' you see. And then when one is exhausted from all that manual labour, one presses a button, and magical fairies whisk the 'email' to the recipient. It was all very simple, the way young Penelope explained it--but then, she is eighty-fourth in line for the throne, and knows how to speak to the people. Especially in the 'chat rooms', apparently.
But one's readers (who, according to an impeccable source, are so numerous that were each to contribute a shilling to The Royal Purse, Her Majesty would be able to re-purchase British Rail and have sufficient funds remaining to treat each subject to a fish and chips dinner on his or her birthday) should know: Just because a thing is fast and convenient, does not mean that it is right. After all, it is most expedient to say to someone, "Fie! Remove yourself from one's vicinity, foul-odoured miscreant, or one shall beat your hoary carcass with one's cane!" when they cross your path. But it is not at all proper, unless one happens to be a baronet, and the offender in question happens to be a commoner, in which case, of course, such an oath is perfectly acceptable.
And thus in one's own household, the 'email' is retrieved in a cellar chamber, transcribed by one of the servants onto scratch paper, and then given to the scribe hired especially for the purpose of rewriting the message with a gold-nibbed fountain pen upon parchment. The scribe then blots and dries the paper, scents it gently with lavender, folds it, and affixes it with red wax and the house seal. Then the collected missives are placed upon the silver tray and delivered to one in the library, where one reads them at night, while savouring one's whiskey-and-soda before bed.
Readers, just because one accepts 'technology,' one does not have to bow to its vulgarisations. That is the message that one wishes to convey.
Feeling confident that others will follow his example (giving work to many, many otherwise unemployed scribes), one remains for yet another week,
Sir Charles Grandiose
---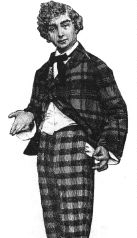 Sir Chimpley writes:
Sir Charles,
I am, of course, a gentleman of aplomb pedigree and contribute a surplus of urbanity to my English ancestry. A well-versed penchant of the arts and literature, I have all measures taken to keep my servants in polished order.
Yet I must admit my distress on the blatant slurring of my vocation, as discerned by another 'gentleman' and his lecher of a ward. After lecturing upon the fine works of Machiavelli, I was shocked--simply appalled!--to hear that my omnipotency had been belligerently misconstrued as impotency! Sir Charles, as a fellow who bears the envy of covetous society, how am I to address this preposterous blathering?!
Sir Chimpley of Paragon
Sir Charles replies:
Dear Nibbles,
Terrible thing, gossip. Brings down the reputation, what? Rather like that dull game the aunts would make we kiddies play on dull rainy days, in which one would whisper "John's got his slicker on," and when the whisper went 'round the table, it would have evolved into, 'The don let his knickers down."
Well, one runs across these things from time to time. There was an old woman in Fishampton, for example--one won't say who (Edna Thistle, Mrs.)--who told folk that she couldn't stand to visit Blandsdown, because of the ash holes there. (Pater was a smoker, you'll remember. . . left burn marks everywhere.) One wagers you can but guess what that got slurred into.
Still stimulated by the thought of that particular libel suit, one remains,
Sir Charles Grandiose
---
Cuchulain writes:
It has come to my attention that circumstances exist whereupon I am profoundly mistaken as to my vocation. Henceforth, I request your insights upon the issue.
As has been noted in the past, I am want to primp appropriately upon occasion, especially when n-k-d fingers are topic of discussion and so vacate the public view quite suddenly at times. Word of my habitual concern for good grooming has been abused through oral acts and has lead to the assumption that I am not one who primps but who pimps. My passionate desire is to be correctly understood upon this situation.
I am as ravenous as may be to obtain whatever graces you may bestow concerning the above mentioned oral acts and their proper treatment. How do you advise me?
Sincerely,
Cuchulain Connaught O'Connor MacNessa, Muse of the Sea Barons
The Lady Felicia replies:
Miss MacNessa,
How one feels for you, really. Gossip can deteriorate so rapidly in transmission, can it not? It's rather like that amusing 'telephone' game one plays as a child in boarding school, in which one whispers 'Mary's teeth are pretty' in someone's ear, and as it passes around the circle, it eventually becomes, 'Jerry's knees are spitty.'
One has encountered similar situations in one's own life, of course. A certain local personage, for example, who shall rename nameless (Edna Thistle, Mrs.), one told people that I was 'an awful bore.' Well! You can just imagine how that one was transformed! One cannot even repeat the word.
It was rather amusing, though, to watch Edna Thistle, Mrs., attempt to reconstruct the original of the rumour that eventually reached her ears. One believes that by the time she heard it, it ran something like, 'Edna Thistle is a dried-up would-be Jezebel with a voice that sounds like a diseased cow in heat.'
Of course, it was exactly identical to the words one originally uttered. One has exquisite enunciation.
Serenely, one remains,
Lady Felicia Grandiose
---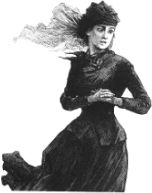 AOL GIRL writes:
DEAR LADY FELICIA,
HERE GOES! I'M IN LOVE WITH A MAN WHO DOESN'T KNOW I EXIST. EVERY TIME I HEAR HIS VOICE MY HEART GOES 100 MILES PER HOUR AND THIS UNDESCRIBABLE FEELING COMES OVER ME.
I'VE NEVER MET THE GUY, BUT YET HE'S ALL I THINK ABOUT, AND I CAUGHT MYSELF TRYING TO COME PARE OTHER MEN TO HIM AND THEY NEVER SIZE UP TO HIM.
IS THERE SOMETHING WRONG WITH ME OR AM I JUST CRAZY?
AOL GIRL
The Lady Felicia replies:
Child,
Let one restate the questions: Is there something wrong with you? Or are you just crazy?
The dilemma reminds one of a friend, who went to town and couldn't decide whether or not to decorate her drawing room in a mint green silk theme, or whether to go completely mad and drape everything in tiger skins. She went round and around, dithering between one or the other, crying, "Am I green silk? Am I tiger skins? Am I green silk? Am I tiger skins?", until finally divine Francois gave her the same advice that one will give to you:
Dear, half-measures don't suit you. You're obviously both.
Serenely, one remains,
Lady Felicia Grandiose