26 January, 1996
One has instructed one's valet to sequester not one, but two doses of a calmative Fizz within the pocket of one's dinner jacket, for tonight we are requested to be present en famille at the estate of Winston, Lord Frost of Locksley-Charmes. For, as one's readers (the seething throngs of them) surely know, this week marks the two-hundredth anniversary of the death of Robert Burns, poet of the highlands. Let us all take a moment to honor 'Bonnie Bobbie's' works. Enough--'twill suffice. He was, after all, only a Scotsman.

In honor of the event, one's neighbor will be hosting the traditional Charmes Haggis Gala. And a more charming gathering there could never be! Of course the jewels in the crown of the local gentry shall be present--one refers, of course, to the Family Grandiose and Eunice, Duchess of Crabbe (and her oxygen tanks), but also to such dignitaries as Colonel Shirley Jambly, as well as The Honourable Eustace Shribble and his wife Cherubina (host and hostess of the prestigious Lawn and Country Bowls Under-the-Chestnut Aristocratic Pique-Nique).

One knows there will be haggis in all forms and flavours this night. If one is to survive the ceremonial Address To The Haggis (Lord F. of L.-C.'s verbal butchering of the 'poetical address' is enough to turn sour the internal juices of the most stalwart), the Procession of Haggis, and the mid-dinner Ode To Haggis (let alone the flaming 'Haggis Jubilee' dessert), one knows one will require all the antacids one can muster. Thankfully, Doctor Bey's Restorative Fizz has proven in the past to annul the effects of even the the most stubborn sheep's innards. And one does enjoy the pheasant-with-gooseberry flavour.

One hopes against hope that the giddy social event will put a bloom back into the cheeks of one's ward, young Penelope Windsor-Smythe. As one's readers know (for those legions of the faithful have memories as impeccable as their taste in reading matter), the young misguided lass arrived from Bath this last week with a suitor in tow. A most unsuitable suitor for one who is eighty-fifth in line for the throne (or indeed, for any young lady save for the most adulterated and carnal of wenches). But one will say no more. Youth will make its errors, and it is not for one to harp upon the subject. One feels that by limiting oneself to lectures thrice daily to the girl upon the mesalliance, one gets one's point across in a subtle, yet instructive manner.

One at leasts thanks the heavens that the lass--if one's readers are insightful enough to infer the meaning veiled by the nebulous and refined metaphor that will follow--was not shorn of any tender, fragrant petals from her rosebud of maidenhood. Oh yes, she is quite still untouched in that manner. One can tell. 'Tis a gift given to the high-born male, the ability to discern the difference between a true maiden and a secret sensualist in silks and satins! In the latter sort of woman there is a certain gleam of avidity in the eye, an air of enthusiasm . . . a fullness to the lip, a pouting, knowing wantonness . . . she exposes a sliver of ankle more than she ought, and her warm, curious looks linger longer than they should, saucily challenging one with an impudent wisdom bought in a dark alley or quiet corner of the British Museum cloakroom . . . glances that by their very heat betray a knowledge of secret sins far older than the porcelain-skinned, lustrous face that frames darting eyes, probing, probing, probing. . . . Ahem. Not that one has ever known that sort of woman, personally. But one digresses. At least young Penelope has not been deprived of her tender innocence! 'Tis a consolation that shall allow one,

For yet another week, to remain,
Sir Charles Grandiose
---
Concerned writes:
Dear Sir Charles:
Papa--who is sadly no longer with us--was something of an amateur Egyptologist whose (unsuccessful) digs in the back garden resulted in a fertile and much aerated soil. However, in his last will and testament he declared his wish to be laid to rest in a mummy case. In a mummy case buried with the family cat in a scale reproduction of the great pyramid of Giza, to be precise, of a height no less than eight metres.
Will this have any effect on the final destination of his soul, if you know my meaning?
Concerned in Cornwall
P.S. This will mean the end of my prize patch of mangel-wurzels. And Mr. Whiskers is not happy with the plan.
Sir Charles replies:
Madam:
One's final resting place in no way jeopardizes one's only and eternal soul. Why, but think of the legions of British sailors laid to rest in a watery grave, struck down in their youth as they served the greatest empire e'er seen 'pon the face of this earth! Are they to be denied entrance through the pearly gates? Certainly not! (Although one would hope there would be a separate, slightly smaller doorway for them, so that the titled and the gentry might enter heaven without brushing elbows with the common rabble.)
The L-rd, however, does not tolerate execrable taste. Oh no. One has it on the best of authority that He prefers classical Palladian lines. Therefore one can definitively state that one will not be entertaining your poor father at the tea table assuredly reserved for oneself in Heaven.
At any rate, one is amazed that the correspondent has the leisure to worry about her father's perdition, when it is her property values that would seem henceforth d-mn-d.
Ever so slightly sympathetic, one remains,
Sir Charles Grandiose
---
Homeless writes:
Dear Sir Charles,
I took a holiday to Skegness recently. The off-season is much more economical to a widow with a pension, you see. I came back to find my flat filled with squatters. I can't get them out! What is your opinion on squatters, and how should I handle them?
Homeless in the High Street
Sir Charles replies:
Madam,
One's opinion on squatters is direct and to the point. One will make no delay in stating it, for it is an opinion obvious to all with breeding and sense. One does so despise those who blather on, in a seemingly endless fashion, without ever coming their point. One has noticed an increased tendency for those of small minds to niggle over something or other, and never come to a clear conclusion. Being of a privileged class, however, and blessed with a gift for simple language and a mastery of the eloquent arts of persuasion in all its forms, one avoids these common pitfalls (or, as one might say, the pitfalls of commoners). And, one might add, one avoids them most elegantly.
As for squatting: It exposes the nether regions in an offensive fashion and is to shunned among those with any pretentions to breeding. One is surprised, however, that the correspondent has not hit upon the solution of offering these vulgarians seats upon the settee, or at the very least, small stools. Or perhaps one is not surprised at all, given the correspondent's choice of Skegness as a holiday spot. A place more clogged with the flotsam of the lower classes one has ne'er seen.
Graciously, one remains,
Sir Charles Grandiose
---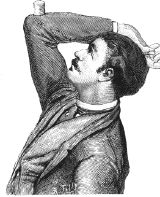 Chester writes:
Dear Sir Charles,
The school dance is just around the corner and yet I have no one to share it with. I am a very lonely person. I have a crush on this girl and yet she does not notice me. There is also this other girl who gave me a shirt from Structure and a stupid rose, but she is the ugliest girl I ever seen but I don't know how to tell her to back off and leave me alone. Please, Sir Charles, I need a lot of help!
Desperate Chester
Sir Charles replies:
Sirrah:
Indeed, the correspondent does need no small amount of help. Preferably of the sort administered by licensed mental health practitioners. However, one was wondering if the correspondent could answer a question, for you see, one has never before met a chap with Mexican jumping beans for brains: Do they rattle, in a high wind?
Succinct, as ever, one remains,
Sir Charles Grandiose