August 13, 2001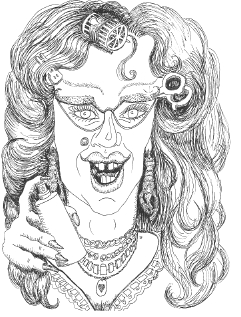 Howdy!
Ida B. Peevish, here.
I ain't your regular advice-giver. I hail from a little town called Rock Bottom in the U.S. of A. where people know what side of the road to drive on and also where I write an advice column, "Peevish Advice" for the Rock Bottom News, whose motto is "When it comes to news, we're Rock Bottom." Columnizing is not my primary occupation, however. I am best known as the owner and proprietress of Ida's Salon of Beauty and Live Bait Shop, where I also give lots of advice. You need a new look or a mess of night crawlers, I can advise you what is best. Why if all the folks I told what to do or where to go were locusts, every field within a hundred miles of Rock Bottom would be chewed plumb to ground level. Folks are always saying to me, "Ida B., why don't you just take your advice and give it to someone else!"
That is what I have done. I have wrote a book called "Peevish Advice." But I am getting ahead of myself. Anyhow, after I wrote the book, I won myself a trip to England in a giveaway sponsored by a new store at the mall up on the highway, and I said to myself, "Well, shoot, Ida B., why not just up and go? It ain't like this is the busy season or anything." So here I am. I took a little tour as a side trip because I wanted a first-hand look at how them hoity-toity Brits live (and they wouldn't let me anywhere near the Queen's boudoir at Buckingham Palace even though I told them I really needed to use their facilities).
Anyhow, I was busy going through the medicine cabinets at this here Bland Stone estate or something, and the tour bus left without me. Next thing you know, I hear this pasty rich dude who owns the joint announcing to his wife (who'd be something to look at if she used some make-up) and this other young gal (who ain't bad-looking now, but her looks are the kind that goes to seed fast, so she'd better make hay while the sun shines, if you ask me) that since he just can't cope without his secretary to help him, that they ought to go off on holiday until the --(well, I was brought up to get my face slapped if I used language like that!)--secretary got back from wherever he went off to. He was in one high snit-fit, I'll tell you, but them over-bred Brits is like that, I understand.
Off the family went, fortunately without checking the bathroom that I was in. Anyhow, I had plenty of time to kill before the next tour bus came, so I figured why not just send out my column from the pasty rich dude's computer?
Hope these letters help y'all,and if you ever hit Rock Bottom, look me up. Remember, you get what you pay for, talk is cheap, and my advice is free. However, not if it is wrapped up in my book, which you can get for $10.95 from 1-877-BUY-BOOK or you can log on to www.buybooksontheweb.com or if you live in a big enough town what has a bookstore, you can get them to order it. The ISBN (and, no, I don't know what that stands for) number is #0-7414-0729-9.
Some of y'all could probably really use my advice.
--Ida B. Peevish
---
Newly Rich writes:
Dear Ida B.
I just came into some money and need advice in managing my assets.
--Newly Rich
Ida replies:
Dear Newly,
Well, Honey, you have come to the right place. Ida's Salon of Beauty and Live Bait Shop offers asset management to suit all price ranges.
While money can attract a man, ain't nothing better than getting your assets in shape, the better to keep his eye on you and not wandering off somewhere else. If money is no object, I recommend a new up-do, one of them facial masques to tighten-up those sagging pores, some new press-on nails in one of the hot new colors, a complete make-up job with double mascara and heavy-duty lipstick, and maybe some facial or bikini waxing, if you have the need for that.
If you desire to indulge in the pleasure of the flesh, my nephew Ralphie, who took a correspondence course in personal massage during the time he was incarcerated, will be glad to take you into his hands. Just don't let his hands wander too close to your neck if he says he hasn't been taking his medication.
After we're done with you at Ida's Salon of Beauty and Live Bait Shop, we'll give you a ten per cent off certificate redeemable at the Rock Bottom House of Polyester over at the mall to get you started on an eye-catching new spandex-based wardrobe.
--Ida B. Peevish
---
Wondering writes:
Dear Ida B.
My boyfriend is starting to get serious, and my mama has mentioned that I ought to be aware of personal protection. Should I?
--Wondering
Ida replies:
Dear Wondering,
Your mama speaks the truth. For personal protection, there is nothing like big hair and a small handgun. Between the two, that is all you'll ever need for just about any situation a girl might find herself in.
Here at Ida's Salon of Beauty and Live Bait Shop, we can fix you up with a teased and lacquered coiffure that no man can get within two feet of. Also, since I am upgrading my personal defense system to something with a little more power, I will be glad to give you a good deal on my little .25 which tucks neatly into a wonder-bra and don't leave any tell-tale bulges. It has only been used once (the gun, not the bra).
I'll not give away any secrets, for a lady does not kiss and tell, but if you ever attend Rock Bottom Evangelical Church of the Surging Inner Spirit, you will notice that the choir director, Otis "Bud" Wiser, has a very high tenor voice. Well, Sugar, before he went out me and then two-timed me with that hussy I caught him with, he had a deep bass. Ask him why he is a sadder Bud Wiser.
--Ida B. Peevish
---
Anxious writes:
Dear Ida B.
My daughter is getting to the age where she's asking questions about s-e-x. How do I go about educating her in what she needs to know? Can't the school just do it for me?
--Anxious Mother
Ida replies:
Dear Anxio—oh, heck, everybody knows it's Crystal Mae Snodgrass, whose daughter Tammy Loretta is the head Bottomette on the Rock Bottom Junior High Bottomettes Pep and Twirling Squad, and if ever a child needed instruction, this one does. Everybody who sees her in action has mentioned how hot she is, and I'm not talking about just when she does her "Rocking Bottom" with the fire batons at halftime number. For those unfamiliar with this routine, it always gives the football team such a rise that now they don't lose by nearly as many points as they used to.
Anyhow, Crystal Mae, if I was you, I wouldn't leave it up to the school system to tell Tammy Loretta what she should know, because everybody knows how progressive the Rock Bottom School System has become lately. They've started up with a whole new bunch of teaching techniques, such as "co-operative learning" in which one kid who don't know nothing is paired off with another one who knows even less, and together they're supposed to figure out what they don't know. You put this together with "hands-on" learning and "learning by doing," and you're just asking for trouble. Ever since that English teacher showed that Leonardo di Capricorn movie to the kids what was studying "Romeo & Juliet," some of them kids has gotten a little too interested in studying Shakespeare together. Before, when they just had to read it, they didn't understand half of it and they was too bored to do much, which was just as well for all concerned.
Best thing you can do, Crystal Mae--and any of the rest of you who has got daughters randier than a she-goat in heat, is when they ask, tell them the truth—that s-e-x leads to housework. This will pretty well keep them on the straight and narrow, or at least momentarily kill the mood.
--Ida B. Peevish