Once again, one inspires holiday goosebumps with the classic letter imitated by millions. And somewhere along the way, one wishes one's readers a very Merry Christmas, and a Happy New Year, and reminds them that the Ch-Ch-Ch-Chia Baronet is of limited availability in most areas of continental North America, the United Kingdom, and Argentina.
With a ho-ho-ho, one remains,
Sir Charles Grandiose
---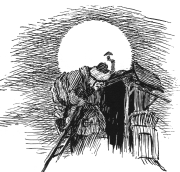 Virginia writes:
Dear Sir Charles,
I am 8 years old. Some of my little friends say there is no Santa Claus. Papa says 'If you see it in Advice From Sir Charles Grandiose it's so.' Please tell me the truth, is there a Santa Claus?
Virginia O'Malley
115 West Ninety-fifth Street
New York City
Sir Charles replies:
Virginia, your little friends are wrong. They have been boonswoggled by watching too much 'Oprah'.
Yes, Virginia, there is a Santa Claus. He exists to bring the children of the titled and the gentry copious amounts of expensive, tasteful gifts that they deserve by right of blood and class. Not believe in Santa Claus! Why, every blue-blooded youth knows that Santa Claus exists, and flourishes with every passing year!
Santa can, however, make only so many stops on his busy night, and only at the nicest manors. Judging from your address, Virginia, yours will not be among them. One suspects you will have to make do with your father in a flame-retardant red suit of unnatural fibers. One doubts he will need the extra padding.
Poetically, one remains,
Sir Charles Grandiose
---
Neighborhood Santa writes:
Sir Charles,
I'm just a fellow who every year decorates a few trees real fancy and then likes to invite the neighbors in to take a gander. It used to be real popular back home in Rome, GA.
But this year I've moved to a new place in Utah and tried to rekindle the tradition by having an open house. I sent out an invitation that said Come on over for some eggnog and see how I've hung my balls! No one came.
Are big city folks just that unfriendly, or what?
--Neighborhood Santa

Sir Charles replies:
Dear Santa,
One would think a touch of the unfriendly, and a whole heapin' helpin' of what.
Averting one's eyes, one remains,
Sir Charles Grandiose
---
Mary writes: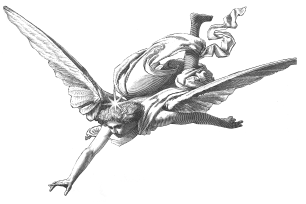 Dear Lady Felicia,
I am in need of some advice. The situation is urgent and delicate. You may recall that I was in your service as an undermaid for some months. I am ever grateful for the many kindnesses that you showed me while I was at Blandsdown. I am especially grateful for your understanding and graciousness after that incident with Sir Charles in the Billiard Room.
Since I left your employ, I have been working in the offices of a respected tabloid in London. I have dreams of becoming a writer someday, but at present, I am the sweets girl, bringing tea and biscuits to the editors, much like my work at Blandsdown.
When I was pushing the sweets trolley through the office yesterday, I happened to notice some photographs on the society editor's desk. Oh Lady Felicia! They are of Sir Charles! And he has been most indiscreet! I don't know what I was thinking - I was that surprised! - but I just scooped them up and stuffed them under the jellyroll platter and rolled off as fast as I could go. I am sure that the society editor will miss them soon as he is planning a big exposé next
week.
What should I do? Should I return them to the editor? Or should I send them to you, kind lady? I enclose three or four prints just to give you an idea of the sort of pictures they are. Do not worry! I still have the negatives and can send them to you if only you will send the postage (say, £500?).
Your loyal former servant,
Mary Tidmarsh
The Lady Felicia replies:
Tidmarsh,
Please mail the photographs and negatives to Blandsdown by return post. I am enclosing a cheque for £500 with my thanks. I've been wracking my brain for something to give Sir Charles on Christmas Day and these photographs will be just perfect. Of course he will grumble and pout that I always get him the same old thing year after year after year, but what can one do? He has quite a fine collection now.
Serenely, one remains,
Lady Felicia Grandiose